Portraits of People & Pets
May 3 – 5, 2023
9 am – 4 pm
Watercolors & Acrylics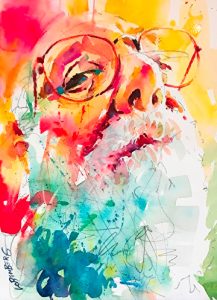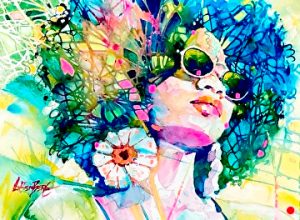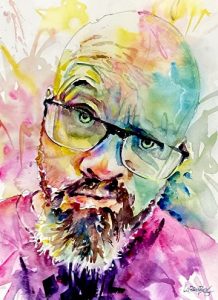 Presented by North Valley Art League
At the Redding Teen Center in Caldwell Park, Redding, CA
NVAL Members $250, Non-Members $300
Limited to 20 Participants
ONLINE SIGNUPS ONLY –

CLICK

HERE
About David Lobenberg
David Lobenberg is well known for his portraiture work in the "California Vibe" style. His high level of excellence in figurative/ landscape watercolor and acrylic painting is well recognized by artists and collectors nationwide. He has a Master's Degree in Fine Arts from UCLA and is an adjunct art professor at Sacramento City College.  Read more about David Lobenberg and see more of his extraordinary work here:  David Lobenberg Fine Art.
Click here for Workshop Description

Absolutely no drawing experience necessary in the California Vibe Watercolor Portraiture™ workshop (acrylics can be used, also).
You will use a reference photo and tracing technique that's super simple to execute.  The creativity and painting fun begins during the painting process! Through the step-by-step demonstrations and question-and-answer sessions, you will head down a path of expressive, energetic and evocative portrait painting.
The workshop will run from 9 am to 4 pm each day, with a break for lunch.
Click Here for Materials List for both Watercolor and Acrylic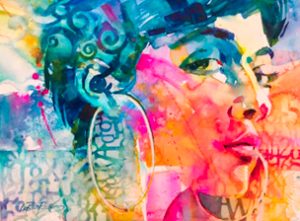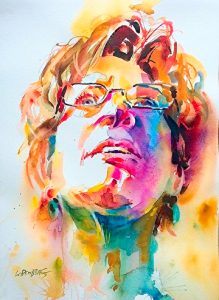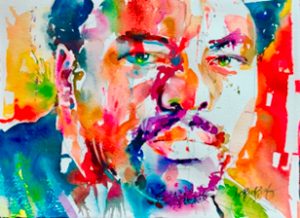 Throughout the course of the workshop, artists learn:
How to shoot dramatic, stylistic reference photos with a smart phone and natural daylight.
How to utilize a simple photo/tracing technique to prepare for the painting process.
How bust through the color barrier.
How to mix gutsy colors with a minimal five-color palette.
How to merge positive and negative stencil embellishment techniques into their portraits.
At the conclusion of the workshop, artists will have the wherewithal to follow their own path towards creating California Vibe Watercolor Portraits™!