NVAL Workshops & Classes are Open to the Public
Monthly Class – 2nd Sunday with Chuck Prudhomme
October Class is Sunday, Oct 9
12 to 4pm at NVAL Carter House Gallery
Cost $40 per student
Learn to Paint an Impressionistic Painting from a Photo" 
Bring your own photo or let Chuck provide one for you!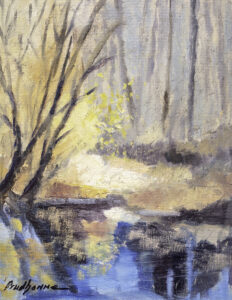 Workshop with Anne Leveque "CRACKING THE CODE/and Make Over Again and Again"
SIGNUPS ARE CLOSED
Anne is a gifted abstract artist who utilizes large canvases to produce stunningly luminous paintings.
Two days,  Sat and Sun, Sept 24 – 25 at the Old Redding Teen Center in Caldwell Park. 
Cost $250 per student, $285 for non-members. 
Signup at NVAL Carter House Gallery or online at nval.org.   
Supply Charge:   Anne will bring all non-toxic chemical code changers.  She has requested an additional $20 supply fee to cover the cost of these chemicals. The fee will be collected the first day of the workshop. Payment by check or cash.
Pre Class PREP WORK Required