January 10 – February 4, 2017
North Valley Art League
48 Quartz Hill Road, Redding, CA 96003
Juror: Andrew Patterson-Tutschka, Art Instructor at Shasta College
ELIGIBILITY
Open to all artists 18 years old and over.
Work must be original, both in concept and execution.
ELIGIBLE MEDIA
Oil, Oil Pastel, Soft Pastel, Water Media, Drawing Media, Alcohol Ink, Printmaking, Mixed Media and Collage.
NON-ELIGIBLE MEDIA
Sculpture, Photography, computer generated art, Work done under supervision, Work done in a class or workshop, Copied Work, Work previously accepted into any NVAL juried show.
Maximum size 18 x 18 including frame.
AWARDS
Best of Show
First Place
Second Place
Third Place
People's Choice
Awards of Merit
$200
$150
$100
$75
$50 Gift Certificate
Certificates
CALENDAR
Entries Due
Notifications Mailed
Show Opens
Reception
Show Closes
January 3 – 7, 2017
January 9, 2017
January 10, 2017
January 13, 2017
February 4, 2017
ENTRY FEES
Members                     $10.00
Non-Members             $15.00
Cash, Check (Payable to NVAL)
Entry fees are non-refundable
Reception & Awards
Friday, January 13, 2017
6 – 8 p.m.
Awards at approx. 7:00 p.m.
SELECTION & AWARDS PROCEDURE
The juror will select art work for the show from the entries submitted. Artists will receive notification by mail of selected and/or not selected entries. Awards are given at the juror's discretion. The decision of the juror is final. Awards will be presented at the reception on Friday, January 13, 6 – 8 pm.
AGREEMENT
All reasonable care will be taken with the art work. However, North Valley Art League will not be responsible for loss or damage.
Submittal of entry constitutes an agreement on the part of the entrant to the terms and conditions of this prospectus.
SALES
California sales tax is collected by NVAL on all art work sold. NVAL retains a 20 percent commission on all sales. Paintings must remain in the Gallery for the entire show
FRAMING & HANGING REQUIREMENTS 
Entries must be framed or be finished 1.5 – 2 inch deep gallery wrapped canvases. Entries must have D-rings or equivalent securely attached to the back of the art work.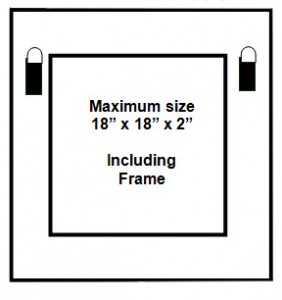 ENTRY CHECK LIST
Entries due Jan. 3– Jan 7, 2017
Attach ID to the back upper left corner
Complete Entry Application
Provide a stamped, self-addressed envelope for notification.
Entry Fees – Cash or Check payable to NVAL
HAND DELIVERED ENTRIES ONLY
For More Information Contact:
NVAL – (530) 243-1023
Tues. – Sat. 11 – 4
E-mail – NVAL@sbcglobal.net