Monthly class to be held on the Second Sunday of the Month.
12 to 4pm at NVAL Carter House Gallery
Cost $40 per student each session
Oil or Acrylic
All signups will be at NVAL. 
Sign up ahead of time or come a few minutes early and sign up at class.
Chuck Prudhomme brings years of experience along with an innate artistic ability
to create lovely compositions of landscape, cityscape and people using his signature impressionistic style.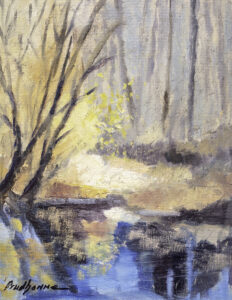 "Learn to Paint an Impressionistic Painting from a Photo"
Bring your own photo or let Chuck provide one for you! 
Complete Oil Painting Demo, Personal Instruction & Critique
EQUIPMENT
Acrylic or oil, Easel, Paper towel roll, Trash Bag,
Palette, 11×14 or 12×16 canvas panel,
Turpenoid or water
Folding chair if you paint sitting down
Small notepad and pencil or smart phone
Bring something to drink throughout the day.
Questions re Workshop, contact Chuck by phone @ 530-524-8378